A visit to Acadia National Park
How I chose this destination
This year's research was quite long. I had to find something that has good weather in October and that I can build a trip of about two weeks. Let me tell you, it wasn't easy! First of all, most of the places I like are at the northern part of the northern hemisphere which means that October is too late and central Europe which is closer, well… I rather keep it for shorter trips.
I started the "research" with the classic destinations like Iceland, Norway, Alaska, British Columbia and even got to Churchill, Canada (a great place to see polar bears!) which was a perfect destination if I only checked out the season but when I started checking how to get there and how much it costs – ohhh man.
I didn't give up on Canada and started reading about Atlantic Canada. In the back of my mind I remembered the name "Nova Scotia" and it turned out that October is THE season to visit. The temperatures are great, there's almost no rain and on top of that it's the peak fall season. Hundreds of kilometers filled with colorful trees. So, there it was, I found my destination!
Tip: When you want to check out a destination or confirm your selection, try to look it up in Instagram and follow relevant accounts.
From here it was pretty much straight forward, I had to find a good flight and start planning the route. The flight I chose eventually was to Boston and so the drive from Boston, thru Maine, visiting Acadia national park, to Nova Scotia was added to the plan. However in the coming posts I won't write much about Boston & Maine. Let me stick with nature 🙂 .
On the way to Acadia national park
On the way north from Boston my friend and I stopped for lunch at a place called "When pigs fly pizzeria" which had a nice atmosphere to it. On the shelves, as decoration, there were plenty of beer taps 🙂 . We ordered some beer which were served in cute logo glasses, and then came the pizza. It was sooooo rich and heavy!! But besides that it was a bit too spicy for me so I literally cried when I ate it. However, it was delicious!
We continued driving towards our place for the night which was in Boothbay Harbor and when we crossed the bridge at Wiscasset we saw a sign saying "Red's Eats". This is one of the most famous places in Maine to get a lobster roll and we were surprised there was no line…
We weren't so hungry but you must have your first lobster roll of the trip at some point, right?! So we stopped and dined in. The roll was e-normous!! Practically all you get is a piece of bun filled with lobster meat – no sauce, no side dish, just a lobster with some melted butter. It was f**kin' awesome and we could barely finish it, but it got us thru the night.
The next day started with a drive towards the destination in the next couple of days, Acadia national park, which is one of the top 10 parks in the USA. When I checked the weather forecast it said that it'll be cloudy until noon and then turn sunny which perfectly fit my plan, but unfortunately reality is stronger than the forecasts 🙁 .
Anyways… on the way there I stopped at Penobscot bridge which is a large bridge over the Penobscot river. It consists of two towers which resemble the Washington Monument, and that you can climb on to for a lookout on the area. Right next to it lies Fort Knox which also deserves a short visit.
Acadia national park
The next stop was Acadia. When we got there it was raining (BTW park entrance is $25 per car valid for 3 days). Light rain, but non-stop, and the visibility wasn't good so it effects the experience. We walked into the park's information center to get some ideas on how to spend my time in the next day or two and the guy suggested we should start with the loop road.
This is a 27 mile loop road which covers the park's highlights. The road was amazing! It's covered with lovely trees and at this time of the year (beginning of October) the variety of colors is so large – from different shades of green, yellow and orange and even red. That is so cool!!
The road continues and reaches "Sand Beach" (which is not very common in that area) and a cool hop-on hop-off section until "Thunder Hole" where you're supposed to hear the water make a big noisy splash which I didn't get to hear 🙁 . The next stop was Otter Point where there were no otters, but still it was a nice place to walk in.
The road then climbs and reaches Jordan Pond (I just learned that the difference between a lake and a pond is the depth of the water. Pond is shallow and lake is deeper), one of the more famous sights in the park. When we got there it was a little dark due to the cloudy skies so we started walking around it but didn't complete the loop and got back to the car. At this point the road forks so you can either climb Cadillac Mountain or continue with the loop road.
Since it was pretty foggy we decided to give up the mountain and get back to it the next day. So even though the loop road is "only" 27 miles you should allow it at least 3 hours due to the frequent stops, enjoying the views and taking some pictures.
We reached the motel, "Bar Harbor Motel" which was very close to the park's entrance, and checked-in to a remote room, I'm actually saying it in favor! It was quiet and close to the woods. Went for an early dinner in town to a place called "Geddy's" which really had a vibrant vibe.
The place is also filled with signs and pictures on the walls and ceiling, so it adds to the atmosphere. I had a "mini meal" which included a small chowder, a small crab roll and a small blueberry tart. All were great! In addition this place has its own, giant, gift shop, just so you know 🙂 .
The next day started with a drive up mount Cadillac. On the way there are several stops that provide beautiful views but the top provides a 360 view which is stunning!
To Wonderland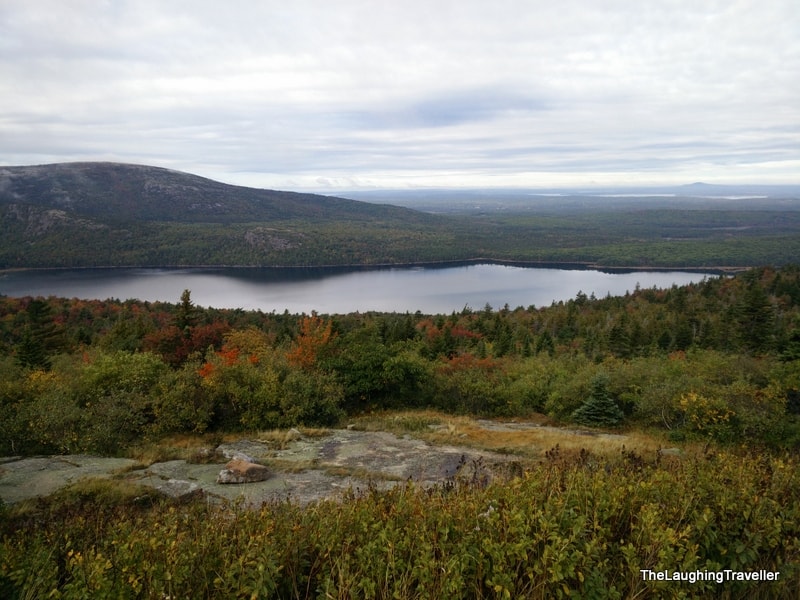 We continued down south to "Seawall" which is a nice open area (didn't really understand why its called a seawall though) and a little more south there's a place called Wonderland. This was really awesome! Went for a short hike in wonderland between trees, got nice views of the ocean and enjoyed the sun.
Then we had some lousy lunch and then we did what's best after some junk food and a beer – start a strenuous climb… The elevation gain up Beech mountain was more than 150 meters meaning it was quite steep. Besides that it was relatively hot, but the colors of the leaves now seeing them up close and the views on the way and from the top were unbeatable.
When I reached the top I climbed some old fire tower where I got to feel some strong winds blowing. On the way down, which was the same way we came through we found some rock ledge which provided a very nice view of Long pond.
We returned to Bar Harbor and wanted to have dinner in a different place but one after the other were full so we ended up at Geddy's again, not that it's bad… When we finished, at 8pm the streets were empty! Turns out that in this area they call it a night quite early …
Sunrise on Cadillac mountain
For some reason my friend and I woke up really early, like 5am, so we thought about going to see sunrise from Cadillac mountain. Turns out this is the first spot in the US that sees sunlight, bet you didn't know that one, heh? 🙂
We put on what ever clothes we had because it was extra cold. We arrived at the top about 30 minutes before the actual sunrise and got ourselves a spot to see it. People around us were dressed in bath robes, blankets and anything else you can imagine… The colors of the sky were changing slowly and right on time, you suddenly see that small "fire ball" coming out. At this point everyone starts leaving the place so traffic goes a bit slow but nothing serious.
We went for another drive on the loop road, one last time and that was our goodbye from Acadia national park. So, Canada, here we come!