A day trip in the Dingle peninsula
So no. Unfortunately BMW did not pay me for the picture you'll see right away, but maybe that's something I need to check
. I don't remember how we got to this lake but it's an absolute gem! Lake Annascaul. In order to reach it, get off the main road and drive on a road that is getting narrower and narrower. At some point there is a gate on the road which says:
Public road, please close gate
This is already suspicious… If it's a public road, why is there a gate? If it should be closed, maybe it's private?! What the heck… We went through the gate and found ourselves completely alone, even more than we had been in the previous days. A beautiful little dark lake, sunk in green mountains – tell me, what else do you need?
One day in Dingle - Against the wind
(We got back to the road) and went through the town of Dingle to start the Slea Head Drive (there's a map at the bottom of the post) which is actually the western end of Dingle Peninsula, the equivalent of the Skellig Ring at the Ring of Kerry.
Tip: Look for those brown road signs!
The road is amazing. There's no other word (that is, I'm sure there is, but I can't find it right now). At some point you stop at a vista point and there are these two seagulls doing a show. What do I mean? (They're really close) and glide with the wind and come back, as if someone is pulling them with a thread from above. There is something fascinating about the ease with which they do it.
We arrive some place where the wind is blowing like hell. It was so strong that it was hard to get out of the car because the wind pushed the door against me! We went down to some beach and then up. You reach the top and suddenly you turn your head to another direction and… you're speechless. At the highest point there was a small stone structure, I guess it's a kind of wind shelter, at least this is how I used it
.
Who asked for Games of Thrones locations
Continuing with the road and my friend leads us to a special place. As far as I'm concerned, this is another fun stop, but he has some sort of image in his head. He saw pictures in Trip Advisor and now wants to see it in his own eyes too. What are we looking for? A Games of Thrones location! (As someone who didn't see the series, I saw on this trip quite a few locations, but I'll get to it in one of the following posts).
We parked the car and went out to walk, seeing this winding path that… leads to nothing! But he's still not calm. Then he comes up exactly to the angle he imagined and calmed down :). I'm so familiar with this feeling, I had the exact same thing in the Faroe Islands!! By the way, the place is called Dunquin Harbor.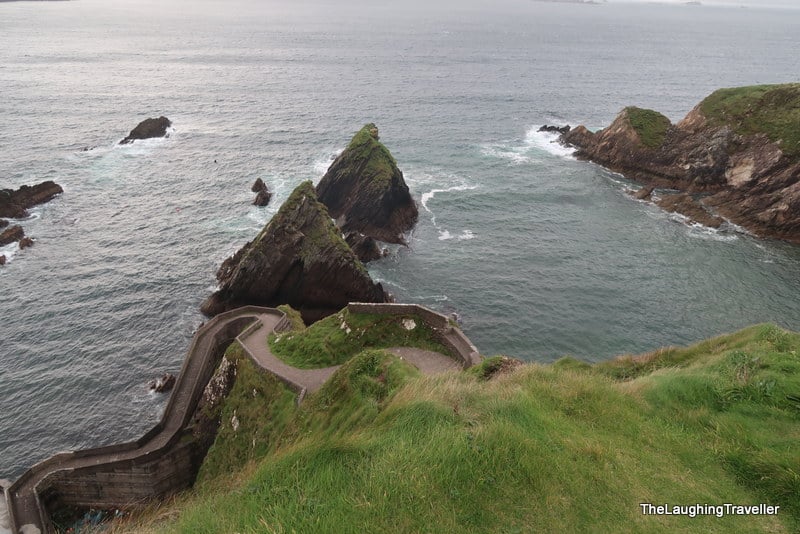 Driving further down the road when suddenly a stunning view emerges and we walked in two directions. The wind was still strong and here it was in the other direction. What do I mean? When I came out of the car the door was almost torn from my hand.
Not fun.
You have to understand, when you do these stops along the road, you don't necessarily know how good would it be. You start walking and suddenly you find yourself an hour later
.
But I had a good feeling so I grabbed a beer and really at some point I hid behind a rock, blocking the wind and enjoyed the beer :). Quite by chance we discovered that it was also one of the locations for Star Wars.
(A boozy evening in Dingle (town
We returned to Dingle and settled down at the Alpine Guest House, which was really nice. Later on we went out to the Dick Macks pub (recommended!). Maybe it was because I drank a special Irish whiskey, 60% alcohol! It was so full of rich flavors. Wow. It was Red Breast cask strength that a few days later I also bought it to have at home
.
Besides this bottle, there were some 200 types of whiskey!!!! And it does not come instead of Guinness right? The Guinness in Ireland is smoother, I've read and heard about it from other people even from England… I guess it's somehow related to freshness, but God knows.
We left Dingle with a desire to see Connor Pass, which should be a really nice place right here in Dingle. But a thick fog prevented us from seeing anything
. The only thing we saw was the sign that shows that on a beautiful day there is an observation that looks amazing.
We began our descent on a very narrow road!! The direction is Trabert for the next shuttle to the next peninsula. The idea was to try to avoid getting to Tralee. The ferry leaves every 30 minutes and we got there on the spot. For 19 euros we got on it, and after 20 minutes we were on the other side.
We drove west to the castle with a strange but uninteresting name (note: it's funny to read something I wrote during the trip.) Now I look at it and ask, "What castle was that?").
Like I said earlier, here is the map, and the next post will have another one!