24 hours in North Ireland
This post talks about a trip in Northern Ireland and is the fourth and last(!) in a series of posts about my trip to Ireland. To start the trip, from Dublin to the Ring of Kerry – click here.
North Ireland – Here I come!
I left in the morning and started driving. I knew there was something like five hours from Galway waiting for me. On the way I went through Sligo, which looked like a really nice place, but I did not have time to stop so I signaled something for the next time! My final destination was the Co. Antrim and more specifically the Giant causeway. As I have already written here, when you talk about a trip to Ireland, it's a strong contender to head the list of places to visit.
I don't know what's in those turbines, but always when I see them, it seems beautiful to me! Despite their rather simple shape, they have something so elegant and gentle that makes me photograph them a lot. I've seen them both in the Faroe Islands and in Lapland on a huge ice sheet.
What is this Giant's causeway anyway?
Legend has it that the remains of a path built by the giant Finn MacCool (what a name!) from Celtic mythology. What happened there? Another giant, a Scot named Benandonner, called him a duel. MacCool began building the causeway from Ireland to Scotland so they would meet in the middle and fight. Here's where the story is divided into two versions and I chose to continue with the one that sounded more hmmm… fun.
In the distance, our Irish giant sees that the Scot looks a lot bigger and "chickens out". His wife who came with him (huh?), disguises him as a baby (God knows exactly how…) and then when the Scottish giant sees this big baby, he imagines that MacCool himself must be really, really huge!
He runs back to Scotland and destroys the path so they will not chase him. And, yes there's a similar site on the Scottish side as well. I even found a video that describes this version:

Actually, this is the result of extensive volcanic activity. A hot basalt burst through the limestone and when things calmed down and cooled, these phenomena were created. Here you can hear the explanation from Marge Simpson (warning: there is an annoying flicker).
Visiting the Giant's causeway
I started walking downhill (also available with a bus) and after a while I started seeing hexagons. They were smaller than I imagined, but then suddenly I realized that it was a huge surface full of them! I walked around them a bit and there was this guard/ranger with a whistle that prevented people from stepping on the dark hexagons, that is, the ones which were wet from the water and they were slippery.
Practical information: The total visit there took me about two hours. Entry costs 10.5 pounds. Oh yeah, suddenly I started using pounds because it's part of England…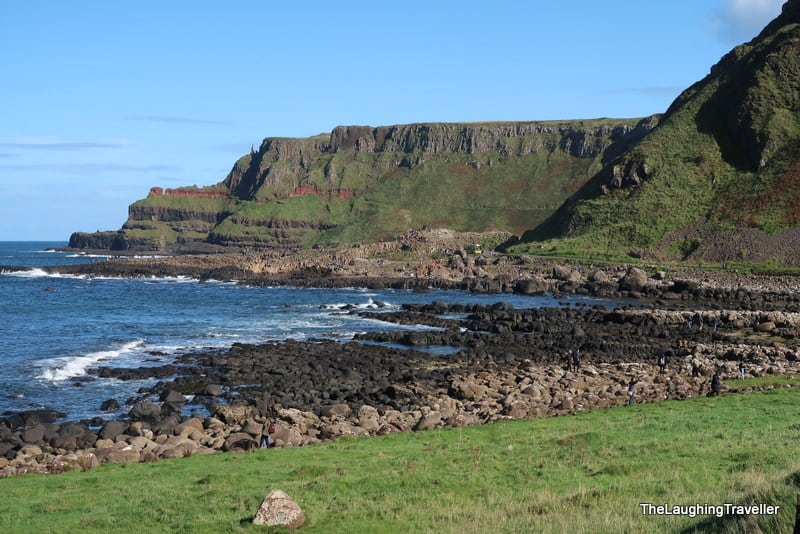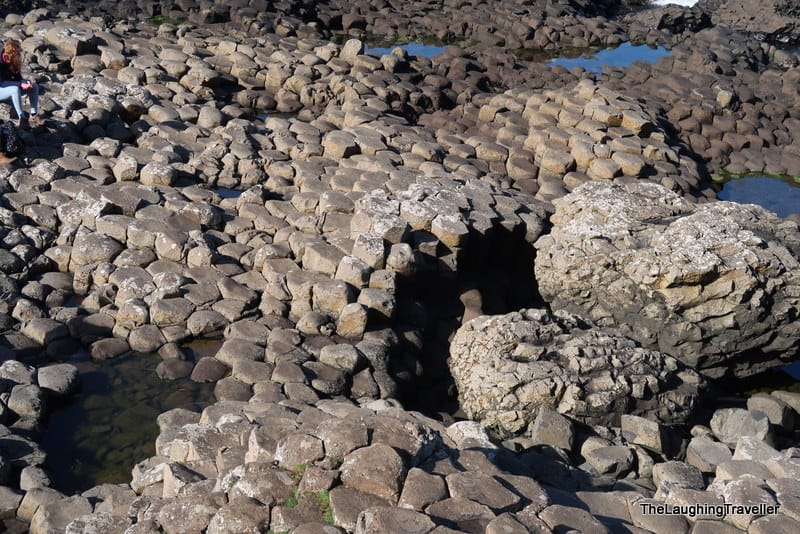 Aside from the hexagons, the site has other nice stops with all kinds of names: Giant's boot, chimneys and organ. The route is circular and if at first I descended, now I have to go uphill a lot of stairs back. At the end it is possible to observe the entire site from above.
The Giant's boot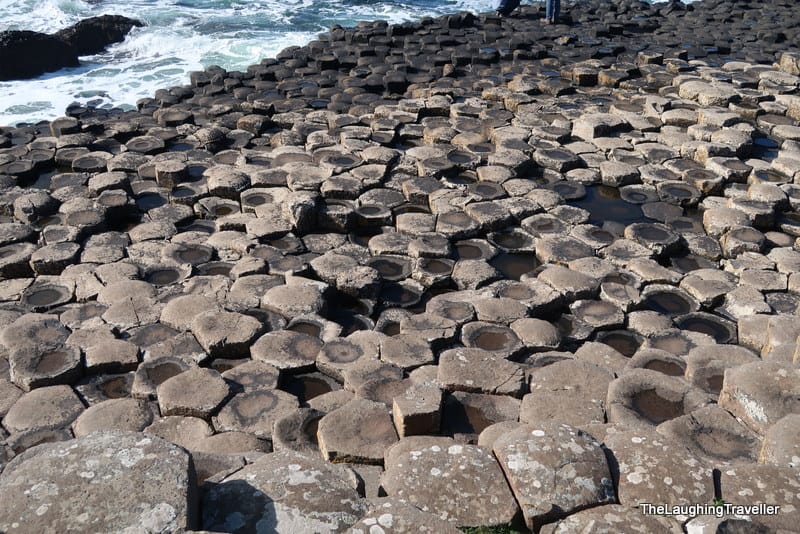 A view from above:
Games of Thrones sites
Dunluce Castle
Now I had a dilemma as to where to proceed – there is the bridge with the ropes, Carrick a-rede and there is a castle called Dunluce castle. Both are relatively close but in opposite directions (there's a map at the bottom of the post) and both close at the same time. The weather was good and the next day it was supposed to rain all day so I decided to start with what seemed to me more important, and that was the castle.
The castle is not complete but in really good condition. Located on the sea and of course it adds to the experience. The visit was relatively short because I did not go inside, I had enough of what I saw from outside.
As someone who hasn't seen the series, I can only guess that there must have been a scene here in which Khaleesi's dragons flew in the air near the castle and fired fire. I could not find the piece, so I'd love a share from one of the addicts – here's a challenge!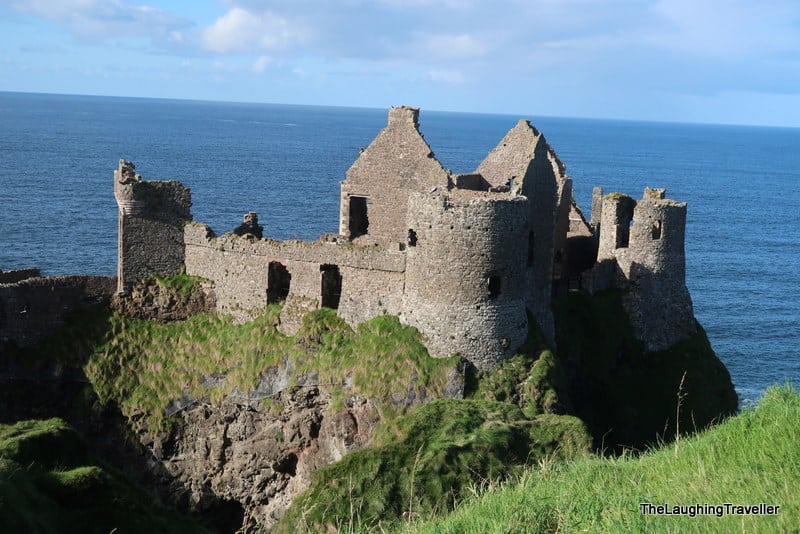 Carrick a-Rede rope bridge
Now I could walk quietly towards the bridge. There, too, as in Giant causeway was already quite full but it is what it is, you can not reach all places in the morning. I bought a ticket for 7 pounds and then waited. Why? Because they regulate the number of people walking on the bridge, so every half hour they release a group. There is a mile walk to the bridge and then you cross it. It was nice, not much more than that. It seems to me that if you arrive and there are fewer people it could be better.
By the way – the picture of this place appears on the cover of Lonely Planet!
By the way # 2 – in this parking lot there's a photo site of Games of Thrones. It was one of the only places I saw a picture of the scene from the series… In general, this whole trip is marked by locations of the series. And in Northern Ireland there are many places where scenes were filmed and even made a tourist segment, that is, there are organized tours that pass through them.
Where did I sleep in a shared room with 10 people?
I arrived in Portrush and went to eat at some Kiwi pub that looked nice but the burger wasn't that good. From there I continued to where I would spend the night. It's an interesting story! Where did I sleep? In a hostel, 10 people in a room! Bunk beds and all… Luckily I got the bottom bed LOL. It was really cheap, at $ 20 a night :).
I try to think when was the time I did something similar… Still, it was great. Not noisy at all but without too much atmosphere. What surprised me was that the rooms were not separated into the boys/girls… The original plan was to sleep in Bushmills, where one of the famous Irish whiskey distilleries is located, but in the end I didn't find a place there.
In what seasons did the Temple and the avenue of trees appear?
Mussenden Temple
I went to some place with the catchy name, Mussenden Temple – I really enjoyed it! At first I didn't understand where it was because I parked at the entrance and entered what looked like a huge garden. I crossed it and reached an open field full of grass.
On my left side I noticed a large piece of stone and I walked in the direction but it was not that. From this point I saw a bigger building and to make a long story short it was like a game that always gets closer and closer to the target. All this time there was really strong wind, it was not raining but the grass was so soaked that my shoes and pants got wet.
Oh yeah, and then suddenly I saw that there was an obstacle before the castle…
Eventually I reached the Temple, which is located on a cliff on the beach. On my way back from the Temple I settled into the castle, which blocked the wind a bit and prepared for a beautiful shot. Kneeling down, preparing the camera exactly at the angle I want, everything centered and (pause).
Click.
A second(!) after I clicked the button, a maintenance vehicle entered the frame, meaning not something that will leave in a short time… Thank God!!
Practical information: a) I mentioned on the map where it is located. b) In theory there is an entrance fee of entry but when I came there was no one at the stall then…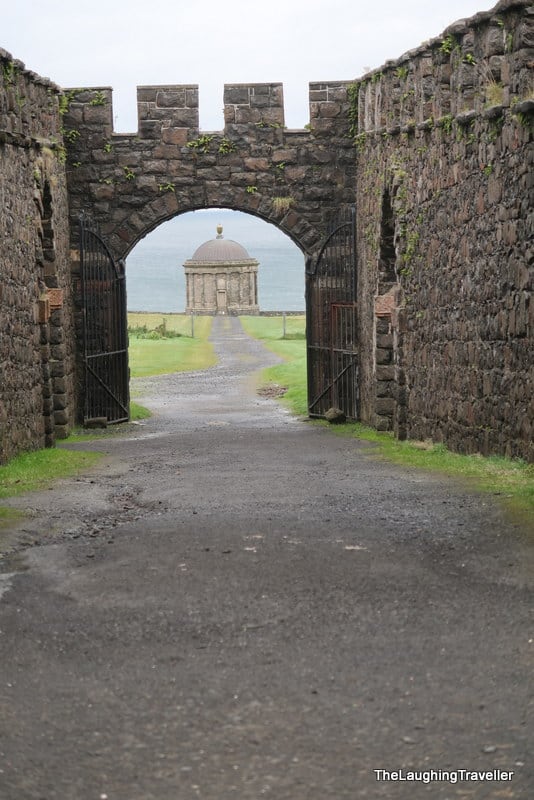 Imagine that I took this video 🙂 . hovering over the area:
The Dark Hedges
From there I continued to "The Avenue with the Trees", The Dark Hedges. The boulevard is really impressive but it's hard to organize a clean shot, free of people and cars. The funny part was that I had unintentionally reached the avenue from the "least popular" side. On the other side there were several buses… Anyway, it turns out that since the series (link to the scene here), the site has become a real pilgrimage …
How I almost got stuck with the car…
Now I was driving south towards Athlone (just a town I was looking for somewhere halfway back to Killarney). Something like 4 hours with all kinds of adventures on the way… For example: when you fuel there, the payment is after fueling, meaning when the fuel is already in the car. I fueled and could not pay with my credit card! And it's not like I don't have a spare one… I do. Both did not work!! 🙁 The seller suggested that I withdraw cash at the ATM but guess what – both didn't work.
Later on, when I verified with the credit card company, it turned out that bad people tried to use my credit card number in Indonesia, so the credit card company blocked it… I was a bit stressed out (because I'm not easily stressed) but eventually they allowed me to withdraw money. And I got to the point where I had enough to let the pressure drop. I ended up in Killarney for a few more days at a Travel bloggers conference from all over the world.
The END
Just before we finish here, I felt like putting some song on. I didn't know which one, but I wanted it to be an Irishman and of course Van Morrison was not a bad option. I read a little about it and what do you know? He is from Northern Ireland, so it fits the post perfectly!! And I also selected one that he gives a beautiful saxophone solo 🙂 .
I didn't randomly pick the last picture of the trip. A representative picture of the roads in Ireland. I really like how the trees "close" and give this sense of tunnel… so friends, this is where my 2017 trips end!